Territorial authorities have announced that Friday, 6 November, saw at least three civilians die as a direct result of the latest shelling of Nagorno-Karabakh cities.
It is said that Azerbaijani artillery shells hit a residential area in Stepanakert, the regional capital. To make matters even worse, the three confirmed fatalities included the death of a grandmother and her two grandchildren. Yes, you read that correctly. An elderly woman and her two grandchildren. More innocent lives lost, and over a thousand of others — civilians and troops — dead.
Over 125,000 residents displaced. But why? What for? Was this a necessary war? In short, no. It was entirely unnecessary.
Ankara's support for Azerbaijan over the Nagorno-Karabakh region cannot, and should not, be underestimated.
Not only has Turkey incited and instigated the conflict, excusing their actions as merely propping up their Azerbaijani 'brothers' because of the strong diplomatic and ethnic ties between the countries, but Turkey has also actively provided the means by which Azerbaijan have been able to continue the conflict.
Turkey have provided Azerbaijan with over 1,000 Syrian fighters, an extensive arsenal of weaponry, intensive training and unwavering public support. As far back as early October, Turkish President Tayyip Erdogan is on record as promoting his dangerous rhetoric: stating that Azerbaijan should "defend its own territories and to liberate the occupied Karabakh".
"We now have the Turks, who have stepped in and provided resources to Azerbaijan, increasing the risk, increasing the firepower that's taking place in this historic fight," US Secretary of State Mike Pompeo stated. By boldly encouraging Azerbaijan to be more assertive, Turkey could be seen to be at best reckless and negligent, and at worst — as Armenian President Sarkissian has alluded to — promoting the ethnic cleansing of Armenians.
The general consensus is that parts of the international community are starting to become wary of Turkey's intentions, too. Armenian President Sarkissian made his feelings clear: "If the issue was only Azerbaijan, the war would have been stopped in the second or third week.
The problem here is the Turkish equipment, the modern Turkish ATS, the technology, the F-16 fighters, the trained soldiers, instructors, officers and generals who, in fact, lead the operations.
We all know that Turkey has one of the largest armies in the world, and it is one of the most aggressive armies in the world. They are in a constant war in Iraq, in Syria, and now here.
I would like the international community to act faster, to put real pressure on Turkey, because that country is a source of instability. It is Turkey that does not allow Azerbaijan to agree to a ceasefire. It is Turkey that wants to continue the conflict, because the longer it lasts, the deeper presence it will have in Azerbaijan."

President Sarkissian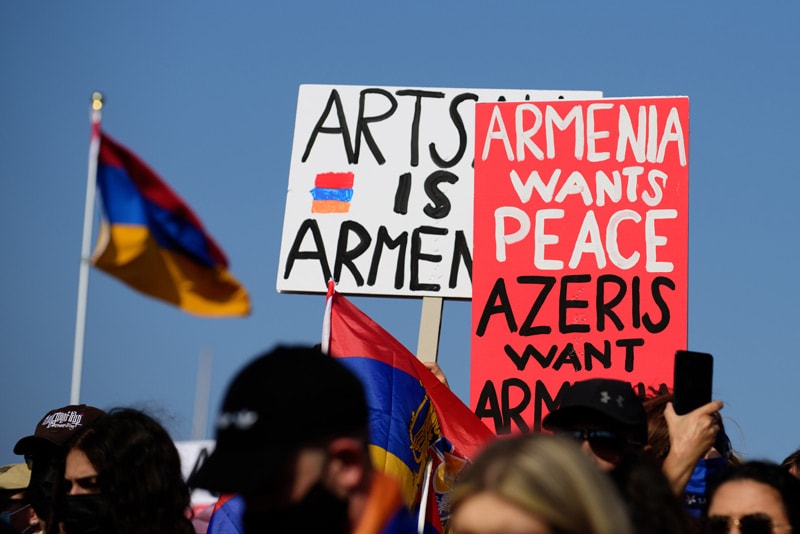 "The international community has missed Turkey's very aggressive aspirations of the past decade. The international community has failed, allowing Turkey to behave as it does today. They were not stopped in Syria, Iraq, and now in northern Lebanon.
They were not stopped in the east of the Mediterranean, they were not stopped when they violated the territorial integrity of Cyprus, occupying half of it. They have violated the territorial integrity of Iraq and Syria, and now they have come and talk about the territorial integrity of Azerbaijan. This is what the international community ignores, and does not want to notice.
How can you have a NATO member state that exhibits such behavior? How can you negotiate with a state that declares its desire to join the EU but its actions completely contradict all European values?"
Sarkissian also accused Turkey of wanting to "not only to teach a lesson to Armenia and tell Armenia what happened 105 years ago but say 'why don't you shut up, Armenians' as you will have another genocide in 2020 and this will happen under the eyes of the international community."
Beyond Turkey's involvement, it is important to understand the undercutting of international humanitarian law during this conflict. What is clear is that, at the very least, there has been a direct targeting of civilians — in contravention of international law — as well as a targeting of civilian areas more generally:
the EU's Foreign Affairs Chief, Josep Borrell, confirmed as much: "
we have seen extremely worrying reports of a surge in attacks on populated areas which is taking a deadly toll on civilians. We strongly use the sides to fully observe their international obligations to property civilian populations."
There has also been a violation of international humanitarian law through the disproportionate use of weapons, with Azerbaijan using drones, long range missiles, cluster Smerch missiles and cluster munitions, among other weaponry.
Amnesty International and Human Rights Watch (HRW) have even confirmed that Azerbaijan has illegally used prohibited ammunition against Armenian forces. And — above all else — if President Sarkissian's claims can be substantiated, that this war involves a direct pursuit of the ethnic cleansing of Armenians, then we should not hesitate to call it what it really is: attempted genocide.