"I'm not upset that you lied to me, I'm upset that from now on I can't believe you."

Friedrich Nietzsche
The president of Azerbaijan, Ilham Aliyev, and the Prime Minister of Armenia, Nikol Pashinyan, have agreed to meet in person in Brussels in mid-December to talk about defusing the tensions caused by daily border clashes.
European Union released this information on Friday, 19 November. The official statement noted that Aliyev and Pashinyan "agreed to meet in Brussels to discuss the regional situations and ways of overcoming tensions for a prosperous and stable South Caucasus."
The meeting is said to be hosted by none other than Charles Michel, the European council president. He was the one who, after speaking with both Pashinyan and Ilham Aliyev on the phone," decided that a face-to-face meeting may be the best course of action in hopes of resolving the conflicts between these two countries.
Furthermore, according to Charles Michel, the meeting between Aliyev and Pashinyan would happen in preparation for the Eastern Partnership Summit (EaP)
This would be the first official meeting between Pashinyan and Aliyev since signing the cease-fire agreement on 9 November 2020. The document put an end to a 44-day war between Armenia and Azerbaijan over the Nagorno-Karabakh region.
The region has been the cause of tense relations between these two countries since the 1980s. When the Soviet Union Collapsed, the Nagorno-Karabakh region, then inhabited by ethnic Armenians, was assigned to Azerbaijan and was formally recognized as a part of Azerbaijan.
The war between Armenia and Azerbaijan in 1991 allowed Armenian people in Nagorno-Karabakh to establish the Republic of Artsakh, breaking away from Azerbaijan in all but on paper.
However, the 2020 conflict saw the Armenian side losing more than before. After "recovering" the Nagorno-Karabakh land, Azerbaijan took control over several Armenian-populated districts.
However, in 2021, Azerbaijan troops took advantage that the border between the two countries has yet to be demarcated in this region and occupied as much as 41 square kilometers deep into Armenian sovereign territory.
Following the border breach, the Armenian government implored the international community and the Russian peacekeepers to urge the Azerbaijan government to withdraw its troops from Armenian territory.
However, while Armenia has deployed its troops to stop the Azerbaijan army from advancing deeper into Armenia, there have been no orders or military actions to push the Azerbaijani troops from Armenian land.
However, in the last few days, border "clashes" resulted in 7 Azerbaijani servicemen being killed and over 10 others injured when Azerbaijani troops opened fire in the Syunik region border area.
Regular Communication between Ministers of Defense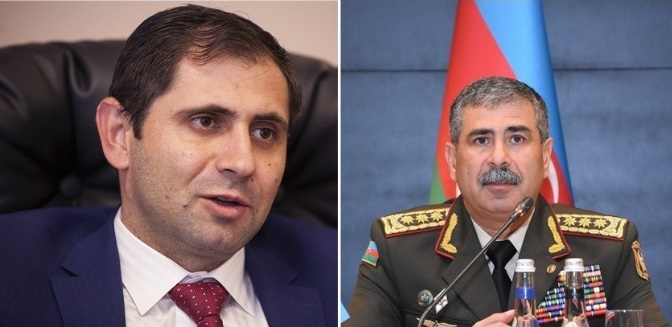 The official statement also noted that "The Armenian and Azerbaijani leaders have also agreed to establish a direct communication line, at the level of respective Ministers of Defense, to serve as an incident prevention mechanism."
Still, whether the communication between these two will be fruitful remains to be seen. The recent development in Armenia and the newly instated Minister of Defense Suren Papikyan may be the cause of the failed communication between the two countries' Ministers of Defense.
Armenia may end up getting the shorter end of the stick simply because, unlike Azerbaijan's Defense Minister Zakir Hasanov, Suren Papikyan simply doesn't bring anything significant to the negotiation table. Without any official military education and with a master's in history, the former high school history teacher may find himself (and Armenia) overpowered by Azerbaijan's Defense Minister.
While it is clear that Nikol Pashinyan's appointment of Papikyan came from a personal goal to have people loyal to him calling all the shots in Armenia, meetings such as this one can and will prove why appointing unqualified people to high-power positions will doom Armenia.
Papikyan has a hard job now—barely a week on the position of Defense Minister; he will be in charge of leading successful communication with a Defense Minister sitting on this position for almost 10 years, since 2013. Before becoming the Minister of Defense, Zakir Hasanov was a Vice-Minister of Internal Affairs for 10 years (2003-2013).
A graduate of Baku High Army Commandeers School, serving five years in The Soviet Armed forces, eight years in the Siberian Military District, fluent in German, English, Russian, and Turkish, is a great opponent wielding abilities and knowledge and power beyond comprehension. Armenia can only hope that their current Defense Minister has the skillset needed to conduct successful negotiations, regardless of his formal education or political association.
The Motherland must be loved regardless of her political regime, and our political convictions!

Garegin Dzdeh.